News
Subscriptions settings

View 1326 times
In the article Private area: subscriptions and updating preferences published early September, we provided the user manual for updating and setting up subscriptions. Today we want to draw your attention once again to this important point for you and for the association. Subscriptions allow you to indicate the type of information you agree to receive or share with your network.
The first part of the page concerns the association's general subscriptions (newsletter, sharing your data with third parties, etc.) for which proper configuration is essential. As you will have understood, without your authorization to send you newsletters like this one, we are not able to share with you information on the network's life, current events etc. Here are some additional information for you to clarify what is behind the different topics:
I allow my data to be transmitted to the directory partner: It is not about the publication of your data in the directory (these are authorized or not in your confidentiality settings), but a double authorization: to allow us to sent you the paper directory to the address you have chosen if you are a contributor, because it is the publisher who sends it directly - to allow our service provider to contact you to find an entry point into your company in order to insert an ad in the directory. Checking this item is very important so that we can continue to publish a paper directory;

I allow my data to be transmitted to ISAE-SUPAERO / the ISAE-SUPAERO Foundation: We work in good understanding with our sister institutions (the School and the Foundation) whose roles are complementary and inseparable from ours: be able to have access to your contact details will be useful for some of their actions and will help promote the influence of the Institute, its diplomas, its students and alumni;

I allow my data to be transmitted to other ISAE SUPAERO ENSICA Alumni partners: These are not business partners, but institutions like IESF (Engineers and Scientists of France), the G16+ or the CGE with whom we collaborate to allow alumni and our association to benefit from their resources and expertise (Engineers Directory, annual survey on Employment and other reports, JNI, career services partnership, provision of free rooms for meetings and conferences of our Association…). Please note: full contact details are not distributed, only surname - first name - school - diploma - date of birth are communicated in order to be able to integrate our alumni into the Engineers Directory. Mailings (for the employment survey, for example) remain strictly internal to our association.
Checking this box is essential to appear in the directory of IESF engineers which allows recruiters and everyone else to ensure that a person has the diploma that they are claiming.
The second part of the page concerns the groups in which you are registered. We have opted for a systematic subscription to the information (emails and events) relayed by these groups (logical isn't it?). However, you can modify these choices at any time to adapt them to your desires.
As an example, here is the subscriptions section of our friend James Test: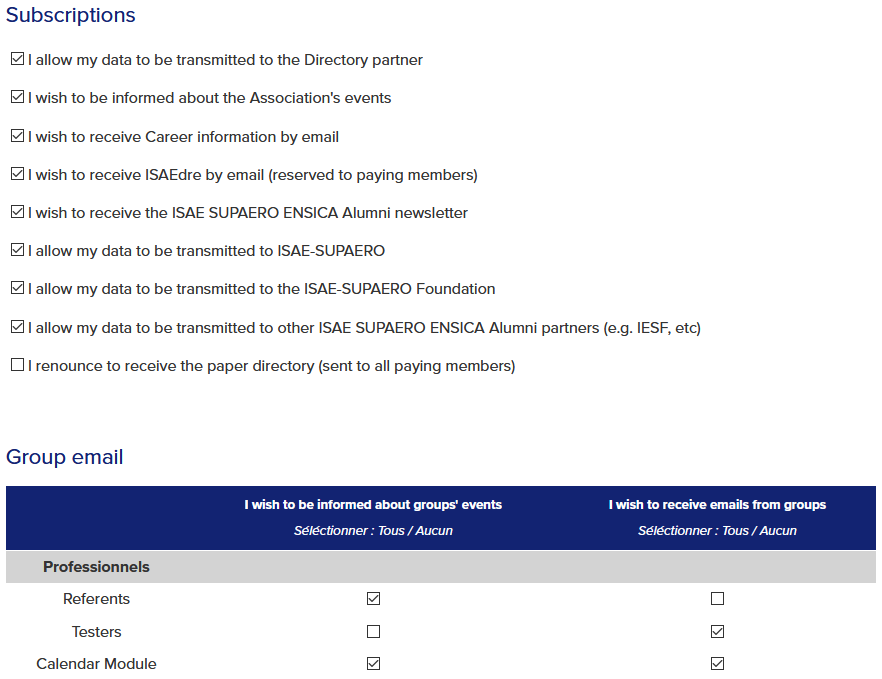 Once your choices have been updated, don't forget to save, otherwise your request will not be taken into account.
Do not hesitate to return from time to time on this section: your availability and areas of interest may change over time, and without this update we will not be able to keep up!
Have a good update!
---
I like